Long lost Alexandria has just as many legends and mysteries spun around it as Atlantis, but this one is real. And it has been found. And there are two sunken cities for the price of one. Alexandria's remains lie literally a few feet off the coast, while Thonis-Heracleion rests a little farther off the coast of today's Alexandria. Both spectacularly well-preserved, considering the ruins are more than 2,000 years old and littered with various shipwrecks, dropped anchors, even lost—and found—gold treasures. Temples and buildings of Thonis-Heracleion were once separated by canals, not unlike Venice, but how and why exactly the city became submerged is still a mystery.

While Thonis-Heracleion is still only accessible for scuba divers who enter Inner Space, Alexandria's ruins could soon be on view via a proposed Underwater Archeological Museum of Alexandria.
Home to Cleopatra : For three hundred years, Alexandria was the capital of the ancient world. It was founded by Alexander the Great in April, 331 BC. Dinocrates, his architect, laid the plans of the city next to the old Egyptian village of Rhakotis. Dinocrates joined the city to the island of Pharos with the heptastadium, a long stretch of land into the Mediterranean. This created two harbors, the Eastern and Western harbors.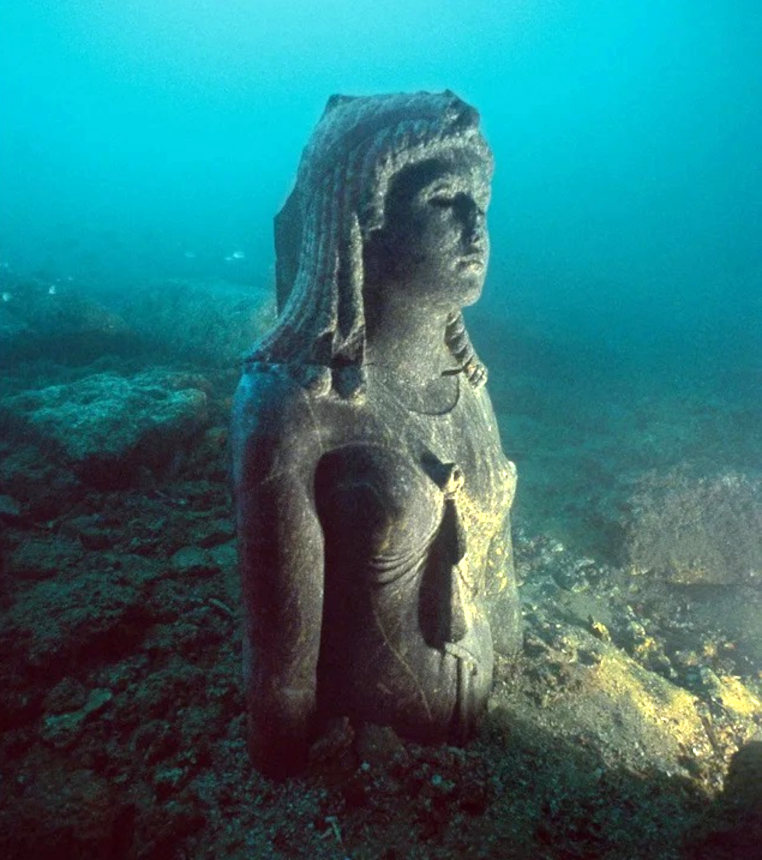 CLEOPATRA - This magnificent statue of the Ancient Egyptian Pharaoh queen is underwater at Thonis, Alexandria. In fiction, an ocean adventurer thwarts a plot by occultists to digitally reincarnate Cleopatra from her mummy. Cloning and other medical advances, make this theoretically a possibility. Just like Jurassic World. But, you'd need to find the Queen's sarcophagus and hope her DNA was complete enough to even stand a chance of making that happen in the real world.
It is a city shrouded in myth, swallowed by the Mediterranean Sea and buried in sand and mud for more than 1,200 years. But now archeologists are unearthing the mysteries of Heracleion, uncovering amazingly well-preserved artifacts that tell the story of a vibrant classical-era port.

Known as Heracleion to the ancient Greeks and Thonis to the ancient Egyptians, the city was rediscovered in 2000 by French underwater archaeologist Dr. Franck Goddio and a team from the European Institute for Underwater Archeology (IEASM) after a four-year geophysical survey. The ruins of the lost city were found 30 feet under the surface of the Mediterranean Sea in Aboukir Bay, near Alexandria.

A new documentary highlights the major discoveries that have been unearthed at Thonis-Heracleion during a 13-year excavation. Exciting archeological finds help describe an ancient city that was not only a vital international trade hub but possibly an important religious center. A television crew used archeological survey data to construct a computer model of the city.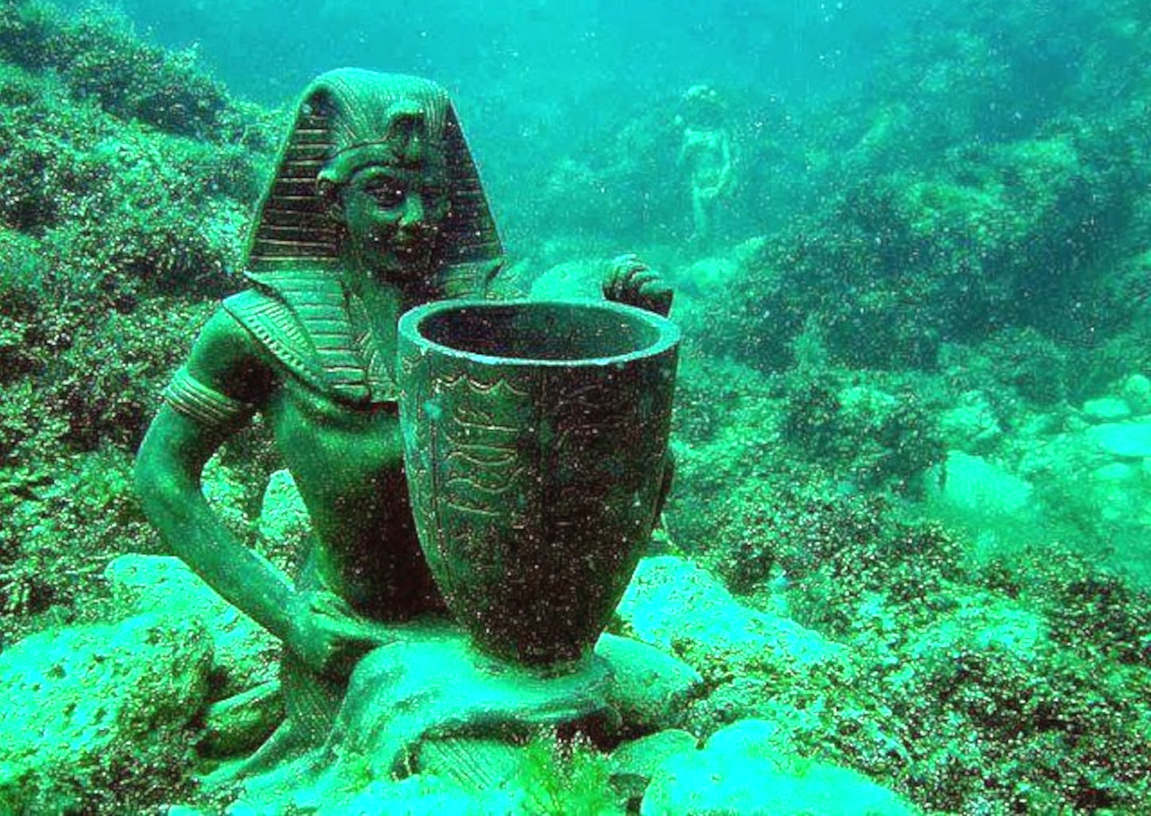 According to the Telegraph, leading research now suggests that Thonis-Heracleion served as a mandatory port of entry for trade between the Mediterranean and the Nile.

So far, 64 ancient shipwrecks and more than 700 anchors have been unearthed from the mud of the bay, the news outlet notes. Other findings include gold coins, weights from Athens (which have never before been found at an Egyptian site) and giant tablets inscribed in ancient Greek and ancient Egyptian. Researchers think that these artifacts point to the city's prominence as a bustling trade hub.

Researchers have also uncovered a variety of religious artifacts in the sunken city, including 16-foot stone sculptures thought to have adorned the city's central temple and limestone sarcophagi that are believed to have contained mummified animals.

"The archaeological evidence is simply overwhelming," Professor Sir Barry Cunliffe, a University of Oxford archeologist taking part in the excavation, said in a press release obtained by The Huffington Post. "By lying untouched and protected by sand on the sea floor for centuries they are brilliantly preserved."
Ocean literacy could be taught in schools, as part of an educational curriculum to raise awareness of just how important the subsea kingdom is for land dwellers.
What lost treasures might we discover as the mysteries of the deep unfold, armed with new underwater technology and an army of freshly educated researchers with an interest in the deep.
ATLANTIS - MEDITERRANEAN SEA
ATLIT-YAM - ISRAEL
PAVLOPETRI - GREECE
PHANAGORIA - BLACK SEA
PORT ROYAL - JAMAICA
RUNGHOLT - DENMARK
THONIS-HERACLEION AND ALEXANDRIA - EGYPT
YONAGUNI JIMA - JAPAN
REFERENCE
https://www