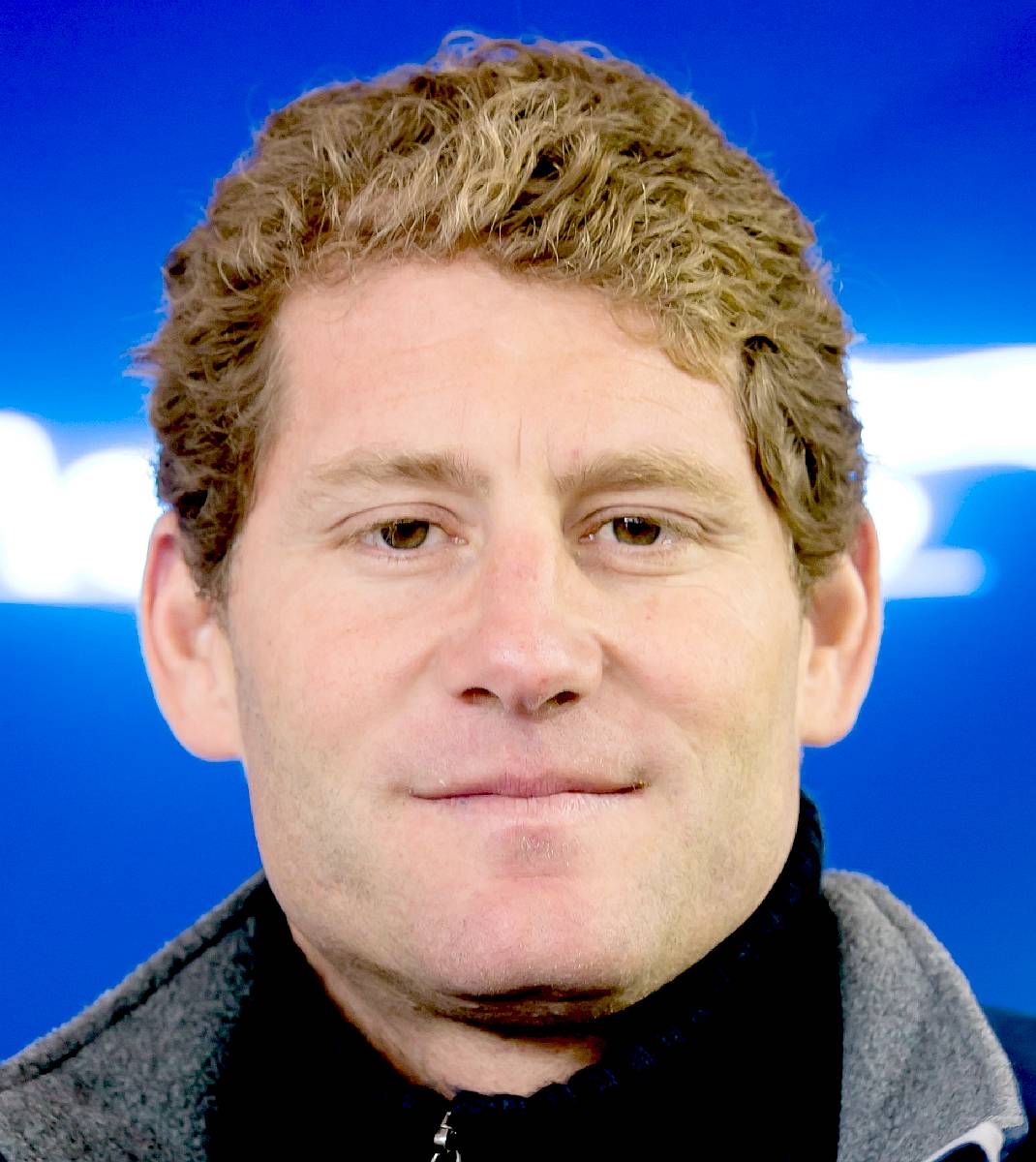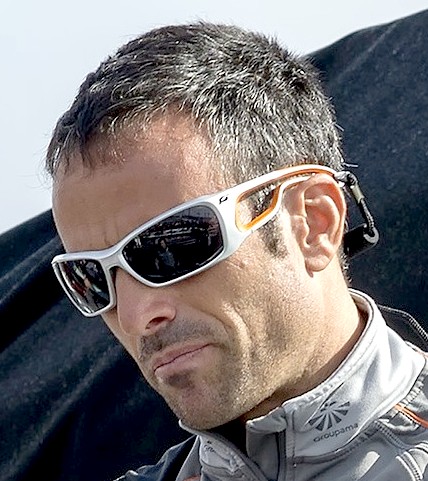 [LEFT] Charles Caudrelier is a French sailor who previously sailed in multiple Volvo Ocean Races.

Born in Paris and raised in Brittany, Caudrelier was a merchant navy officer. He won the Solitaire du Figaro, solo race, in 2004 and also completed the race in 2005 and 2006. He won the Transat Jacques Vabre, a two man race, in 2009 and 2013.

Charles sailed on Groupama 4 in the 2011–12 Volvo Ocean Race, winning the race. He skippered the Dongfeng Race Team in the 2014–15 Volvo Ocean Race. Three years later he skippered again the Dongfeng Race Team, and this time they won the 2017–18 Volvo Ocean Race.
[RIGHT] Franck Cammas is also a French sailor . In 1997, when 24, Franck won the Solitaire du Figaro and a year later helmed his first trimaran christened Groupama.

Later, Cammas was skipper of the 60-foot (18 m) trimaran Groupama 2, with which he won five ORMA championships. His last trimaran, the 103-foot (31 m) Groupama 3 was designed to break ocean racing records. Groupama 2 holds the record for being the fastest yacht in a transat Jacques Vabre race and Groupama 3 once broke Jules Verne Trophy, which she held for nearly two years.

After winning Route du Rhum and the Jules Verne Trophy in 2010, Cammas has switched from multihull to monohull racing and won the 2011–12 Volvo Ocean Race with the Open 70 Groupama 4. He also presides over the design of new prototypes at his sponsor's design office in Lorient, namely for Groupama 4 and Groupama C that won the Volvo Ocean Race in 2012 and the Little America's Cup in 2013.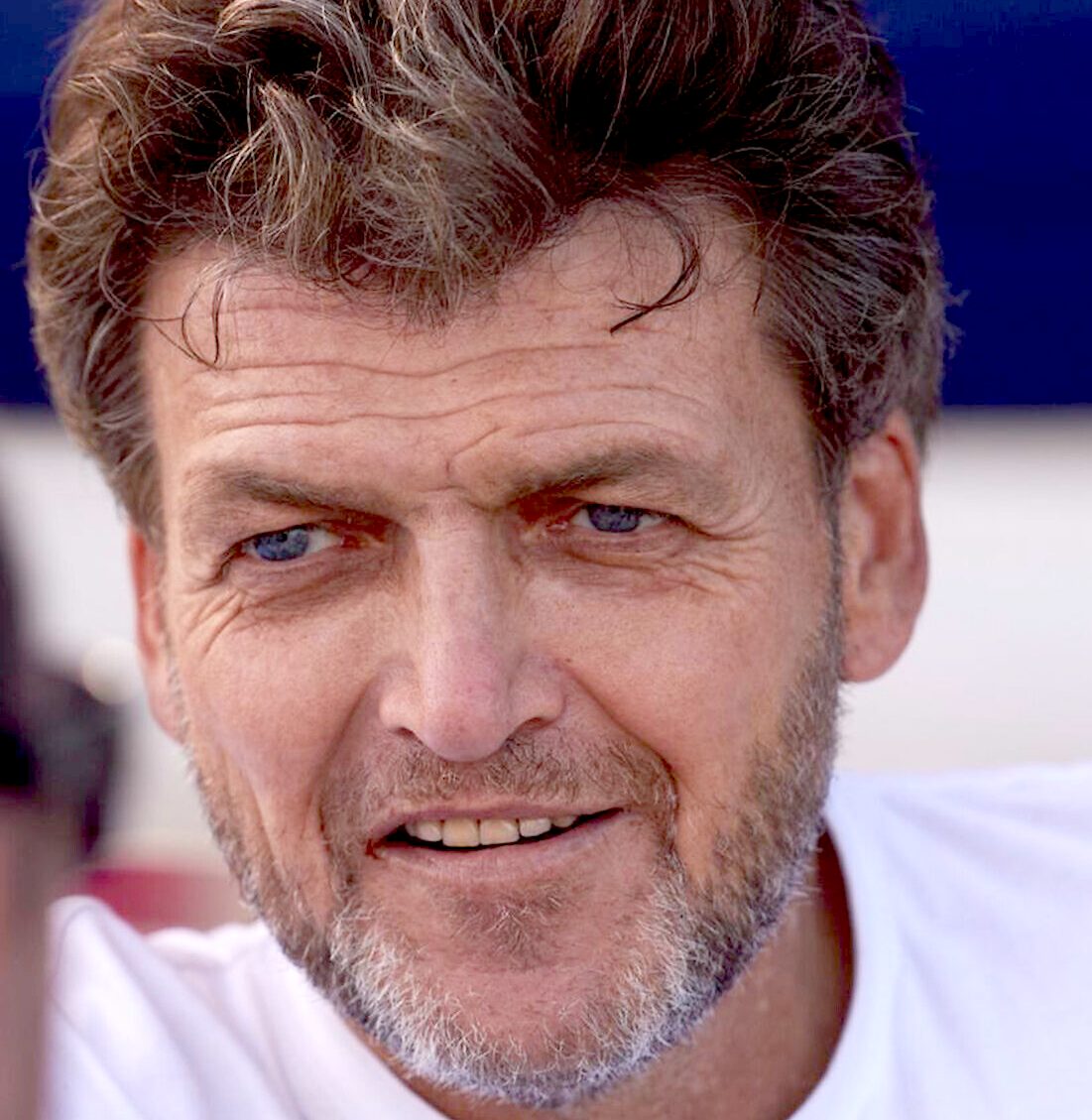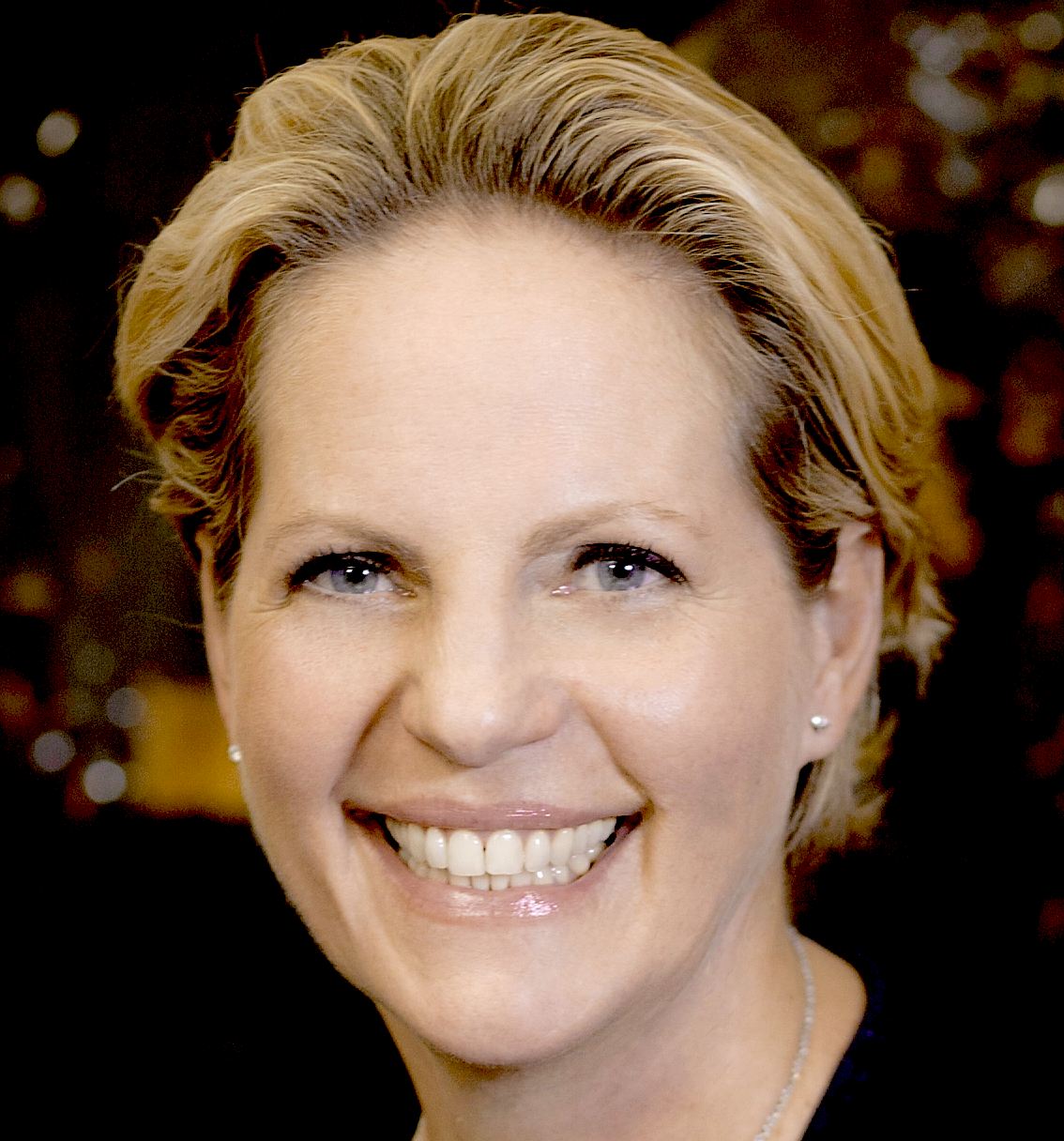 BENJAMIN & ARIANE: Benjamin de Rothschild is credited with creating the professional offshore sailing racing Gitana Team. In 2010, Compagnie Financière Edmond de Rothschild became the Edmond de Rothschild Group. Benjamin de Rothschild (seventh-generation) descended from the dynasty founder Mayer Amschel, the great-grandson of Edmond James de Rothschild (1845–1934). He studied at the Swiss Institut Florimont and held a BA in Business Management from Pepperdine University.

In 1989, he launched the Compagnie de Trésorerie Benjamin de Rothschild specializing in advanced financial risk management. In 1997, he became chairman of the Compagnie Financière Edmond de Rothschild. Benjamin restructured the group's organization around key activities such as asset management, mergers and acquisitions. In 2015, the Group published their first sustainability report.
Ariane de Rothschild managed the group's lifestyle assets. She was appointed a board member of the group in 2008 and vice-president in 2009. She focused her agenda on environmental and social impact investment.

In January 2015, Ariane de Rothschild became the President of the Executive Committee, overseeing the Group's operations. In 2016, she finalized the reorganization of the group's lifestyle assets under the brand new label Edmond de Rothschild Heritage.
Ariane became Chairman of the Board in 2019, and Vincent Taupin replaced her as the CEO of the group. Firoz Ladak became head of the Edmond de Rothschild Foundations. They are active in five different fields : Art and culture, health and research, philanthropy, cultural dialogue and social entrepreneurship.

In 2020 into 2021, Charles Caudrelier of Gitana Team (Edward de Rothschild) attempted to win the Jules Verne Trophée aboard a wave breaking hydrofoiling trimaran, one of the breed of boats that fly using wings to join their amas, to supplement lift from their hydrofoils. The added complexity of high speed foils, is the danger of hitting floating obstacles in the water.
SAIL WORLD 26 JANUARY 2021 - The Maxi Edmond de Rothschild homeward bound.

At the end of last week, just a matter of hours was all it took for the Gitana Team to go from the satisfaction of a record time for its descent of the Atlantic aboard its flying maxi-trimaran to the great disappointment of discovering damage on its rudder, which definitively put an end to its Jules Verne Trophy record attempt.

Since then, the crew of the Maxi Edmond de Rothschild has turned back and has spared no effort in what have been tricky weather conditions to reach more hospitable latitudes to the north. Up against a number of logistical constraints, directly linked to the health restrictions in force as a result of the global pandemic, the six sailors, in agreement with Cyril Dardashti and their router, Marcel van Triest, have decided to return to their home port via the sea and under their own steam, which means without stopping off to effect repairs in Cape Town, South Africa, as was initially envisaged.

Breakage is not compatible with safety or performance

"Our decision to abandon our attempt is a result of breaking the rudder stock on the starboard float", Pierre Tissier reminds us. "It's still too early to explain the exact reasons for this damage, even though we have had a lot of discussions with the crew and are able to substantiate certain hypotheses. However, access to the area in question is very difficult as the rudder system is too exposed on the boat's aft section, meaning that lengthy investigations are not possible as yet. This is why envisaging carrying a spare part to make a replacement at sea is totally out of the question", added the technical director of the five-arrow racing stable.

In fact, the question about a spare part has been raised on several occasions following the announcement of the team's abandon. As such, it's important to respond to this issue: "It's worth noting that a rudder weighs around 200 kg and assembling or dismantling such a part requires a special procedure, up to three people and a support rib, and that is when the boat's in a port and without heavy seas... Offshore, the crew does not have the necessary tooling and, above all, it is not able to access the area in question, which is a long way aft and is protected by the rudder 'chimneys'", explained Sébastien Sainson, the director of Gitana's design office.

This damage forced Franck Cammas, Charles Caudrelier and their four crew to reluctantly interrupt a record attempt that was in full flight and looked very promising in terms of the upcoming weather... However, plunging down into the Southern Ocean, far from habitation and out of reach of any rapid emergency assistance leaves no room for approximation. At a latitude of 50 degrees south, bordering on a zone prone to ice, the crew has to be able to be autonomous and in control of its trajectory under all circumstances.

"The Maxi Edmond de Rothschild is equipped with lifting float rudders, which is fortunate because since the damage occurred, the crew has been able to sail almost normally with the rudder raised. In practical terms, had this damage occurred further down the track in our round the world, we may have looked at things differently, however in our case, it's the safety aspect that prevailed. We'd only just entered the Southern Ocean. We were unable to use one of our float rudders, which meant that the only way to steer the boat was by using the other float rudder and the central rudder" explained Pierre Tissier, with Sébastien Sainson providing more light on the subject: "Thanks to the experience we've gained and the numerous miles the Maxi has now covered, we've noticed that the central rudder is more exposed to impact than before, which must be down to the addition of the elevators. As a result, there's an added risk of ending up with two damaged rudders and a boat that is impossible to steer in some of the remotest areas of the globe. It simply wasn't reasonable and therefore it was unthinkable to proceed."

Last but not least, there was the issue of performance. Taking on a speed record involves knowing what goal you want to achieve before you set sail. Given the exceptional time of 40 days 23 hours and 30 minutes recorded by Francis Joyon and his men, the moment we crossed the start line on 10 January offshore of Ushant, the sailors on the Maxi Edmond de Rothschild knew that there was no room for error.

"If you were to put the safety issue in the Southern Ocean to one side, which obviously is not feasible in the real world, this breakage is a genuine handicap when the boat is sailing on port tack. We reckon that you lose around 20% of the boat's potential. In the south, where the point of sail is predominantly off the wind, this would inevitably have had a major impact, but during a beat, which involves sailing close-hauled, or on a reach, we envisage that the speeds would have been even worse, except on starboard tack of course (namely pressed down on its port float and appendages) where the boat is intact. It's tough, but that's the nature of record attempts and the Jules Verne Trophy", concluded Cyril Dardashti.

Hats off to Boris Herrmann

Just hours away now from the much-awaited denouement of the Vendée Globe, the present scenario is completely unprecedented with eight sailors grouped together within 500 miles. Added to that, a series of time bonuses are yet to be awarded, which should reshuffle the cards for the final podium, and for once this will likely differ from the line honours.

At this historic moment, Gitana Team's thoughts go out to Boris Herrmann. The German sailor, who is attacking his last night at sea in the top trio is the surprise of this 2020-2021 edition. He has sailed a masterful race aboard the Imoca Malizia Sea Explorer and has been proudly flying the flag of the Yacht Club de Monaco during this action-packed round the world. The 60-footer is none other than the former Mono60 Edmond de Rothschild, which the racing stable competed on in the race's 2016 edition and it is a great source of pleasure to see one of the team's former steeds performing so well. The final ranking will be revealed tomorrow offshore of Les Sables d'Olonne.

YACHTS & YACHTING 25 APRIL 2019 - Franck Cammas and Charles Caudrelier at the helm of the Maxi Edmond de Rothschild

Within the Gitana racing stable, the winter refit is on the final straight. In fact, in a little less than a month, the Maxi Edmond de Rothschild will leave her shed in Lorient and head over to the pontoons that make up the Base. Once there, she will be equipped with a brand new starboard bow and, most significantly, we'll get the chance to discover her new skipper.

Following the end of its collaboration with Sébastien Josse, which began some eight years ago, 2019 will see the five-arrow team opening a whole new chapter of a saga that spans more than a hundred years.

Since the origins of Gitana, and all the more so with the creation of Gitana Team in 2000 by Baron Benjamin de Rothschild and his wife Ariane, the passing on of knowledge has been of primary importance in the family's commitment to sailing. With programmes heavily focused on singlehanded sailing over the past few years, punctuated by the Vendée Globe and more recently the Route du Rhum, team sailing had been put to one side, now the owners of the five-arrow racing stable intend to put it centre stage once more.

Combination is the solution

To make this happen, which they believe to be essential to success of the project, the team owners have opted for an innovative organisation in terms of the French offshore racing landscape. As such, it is not one new skipper who has been designated to take the helm of the Maxi Edmond de Rothschild, rather it is a pair of experienced sailors who will share the sports programme lined up for the Maxi Edmond de Rothschild.

Franck Cammas and Charles Caudrelier have been chosen to pull off what is an ambitious challenge from a sporting and technological aspect. Particularly considering that this latest addition to the Gitana fleet remains a pioneer in offshore flight.

They will work together with the members of Gitana Team, each of them with their share of the singlehanded highlights, but with the focus on numerous crewed races. These latest additions to the Ultim 32/23 class programme and notably the round the world race setting sail from the Mediterranean in 2021, now offer teams the prospect of creating a dynamic network akin to that put forward by the ORMA circuit nearly twenty years ago. This will enable emerging talent to be identified and trained, which is something Ariane and Benjamin de Rothschild feel strongly about.

"I'm very happy to be welcoming Franck and Charles into the Gitana Team fold and more broadly into the fold of our Group. This choice marks the combination of two very fine talents as well as expressing our desire to ensure there is constant succession in all the activities we undertake. For the past two years, with the addition of the Maxi Edmond de Rothschild to our family line, Gitana has entered a whole new dimension, that of flying boats. The highly complementary profiles of our two sailors will be a great asset in supporting this fabulous craft in her development. I have a very deeply held conviction that there is strength in numbers and the announcement of this skipper pairing at the helm of Gitana 17 bears witness to this," states the owner of the Gitana fleet.

Associating two great sailors around a common goal. This choice may come as a surprise, yet within Gitana this rather atypical scenario very quickly showed itself to be an obvious step forward, especially so with the personality and complicity of the two skippers lending themselves to such a set-up: "Following the end of our collaboration with Sébastien Josse we were looking for a skipper to take the helm of the Maxi Edmond de Rothschild. During the interview process, despite it being carried out on an individual basis, we very quickly got onto the subject of sailing double-handed as the main event of this sports season 2019 is the Brest Atlantiques, a double-handed transatlantic race spanning 14,000 miles, which is a half circumnavigation of the globe... This new event specially designed for the Ultimes will set sail on 3 November! That's just around the corner and it's a mighty challenge for a sailor who will be just discovering the craft in late May, early June. For this race, the duo made up of Franck / Charles fairly quickly became an obvious move, all the more so given that each of them immediately echoed a desired to work together. Over the ensuing series of discussions, another perspective began to emerge before us, one that involved a long-term pairing," explains Cyril Dardashti, Director of Gitana.

Caudrelier / Cammas, a dream cast

Complicity, respect and complementarity... The reasoning behind the Franck Cammas / Charles Caudrelier association has its roots in these three words. These two sailors have known each other for a very long time. They have a deep mutual respect for one another and they have never made any secret of their desire to work on a joint project. Today it's a done deal.

Joint interview

Why did you agree to this unique arrangement that involves you sharing the helm of the Maxi Edmond de Rothschild?

Charles Caudrelier: "The primary reason is the pairing offered to me! I know Franck very well and I've always enjoyed working with him. We sailed our first races together, we share a strong complicity and we're extremely complementary. He's always brought a lot of energy to the plate table and it's thrilling to be alongside him. The second reason is that with the Ultimes, we're entering a whole new era. We're beginning to fly and we're discovering new things. These are big projects to carry so being part of a pairing is a dream, because when it comes to making decisions, it's always interesting to share your viewpoint with someone else. In the bid to perform well, it's a real luxury which just didn't exist, but here we are in the perfect configuration to really get the best out of the boat."

Franck Cammas: "I've agreed to share this project with Charles for two key reasons; the first is that it's an exciting project with a well-designed boat with which we'll be able to evolve in an interesting class with a high-performance team. The second, obviously, is that Charles and I know each other inside out. We've done a lot of sailing together and we've built some fine victories together. I really trust his intellectual honesty and the brainstorming we can do together. We know that we'll never hide things from one another and that we'll always try to help each other. Each of us is fairly humble with regards to what we need to do and our environment. We're fairly curious and I really like his mindset and his way of working so this arrangement suits me down to the ground."

How do you envisage this future collaboration?

CC: "I'm very familiar with the Gitana team having sailed in it between 2013 and 2016 with Sébastien Josse. I know its strengths and weaknesses and I know how the team operates. Franck will bring a new take on proceedings, a new way of doing things. He'll reenergize the team because we know he always pushes the envelope. He's a mover and shaker, in the finest sense, who is always keen to innovate and drive a project forward. Franck has a massive amount of expertise and technical know-how, whilst I know how to create a mindset and lead men."

FC: "I'm really lucky to be able to collaborate with Gitana Team. It's one of the best competitive teams in France, internationally even, with genuine experience, a solid history and individuals who perform at an extremely high level. I know that we'll be able to progress and pull off some ambitious feats together. From now on, we are the guarantors of a history, which Ariane and Benjamin de Rothschild have forged with their family for more than a hundred years through their boats. It is with very great pride and also a great sense of responsibility that we take on that mantle in the best possible way. We are all too aware of the weight of history and that adds a rather positive layer of stress to our mission and drives us to excel."

What does the Maxi Edmond de Rothschild represent in your view?

FC: "The Maxi Edmond de Rothschild is the best there is for this size boat. She's a quite exceptional boat, devised by a different architect to the rest of the fleet. The basic concept is very sound and something that isn't shared by the other competitors and that in itself is obviously an advantage. Since her launch and in recent months out on the water the boat has shown real potential. However, like all boats, you have to constantly develop her and get her to progress; the competition is progressing and we must progress faster than them. I'm really keen to get back out on the water at the helm of the Maxi Edmond de Rothschild. It's really inspiring to get back offshore again after an absence of more than eight years."

CC: "The Maxi Edmond de Rothschild is a highly innovative boat, which is ahead of her time in relation to the maxi-trimarans from the same generation. She has posted some stunning performances and she's a notch above the others, because she's been devised without limits and with the genuine objective of flying, whilst the others have perhaps gone for a slightly more conservative approach with more Archimedean boats capable of flight. This boat has been completely geared around flight and the results today are extraordinary. We're reaching speeds that nobody could have imagined being able to withstand sailing offshore, even at the start of the project. She's an incredible boat and we know that we're unbelievably lucky to be a part of this fine project."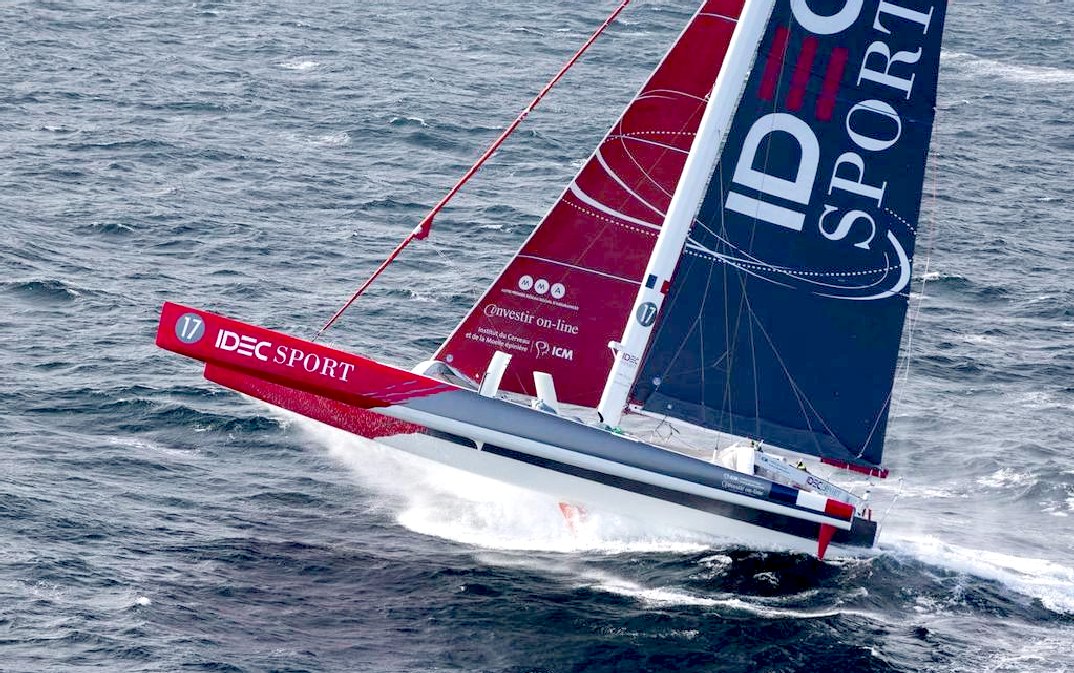 TROPHÉE: JULES VERNE - The current record holder is the IDEC Sport skippered by Francis Joyon, from 2017, set a blistering time of just under 41 days.
HISTORY
In 2000, Benjamin de Rothschild purchased the 62-foot long Elf Aquitaine and founded the professional sailing team Gitana Team, walking in the footsteps of the family tradition but eventually expanding it to multihull sailboats. The team's first trimaran was the Gitana IX (former Elf Aquitaine), followed by the Gitana X, entirely developed by the team. The Gitana 11 won the Route du Rhum in 2006.

In 2015, the team mounted foiling dagger boards and T-rudders on a Multi One Design 70ft to make it "fly" over water, after a decision a year earlier to build a new, state-of-the-art yacht. On 17 July 2017, the 32×23-meter Maxi Edmond de Rothschild (Gitana 17) was introduced, the offshore racing's first maxi-multihull designed to fly in the open ocean. It was decorated by the street artist Cleon Peterson. The Maxi won the 48th edition of the Rolex Fastnet Race in August 2019, breaking the record set in 2011 by Loïck Peyron (Banque Populaire V) and the Brest Atlantiques in December 2019 (skippers Charles Caudrelier and Franck Cammas for both races).
NAMING OF TEAM GITANA
Baroness Julie de Rothschild was the daughter of Anselm Salomon von Rothschild and Charlotte von Rothschild. She was heiress of patriarch Mayer Amschel Rothschild (1744-1812), the founder of the banking dynasty. She has a love of water and boating.

The Baroness becomes the first of the Rothschilds' to sail her own boat, which she christened: 'Gitana.' The monohull was launched on the 21st of September 1876. In so doing, Julie de Rothschild created a legend.

1879 - 20 KNOTS (37 KM/H)

In the quest for more speed, 'Gitana' was fitted with a steam engine, the aim being to attain 50kph. But that goal was never fully achieved. It was though enough to earn the baroness the title of "fastest yachting lady in the world", with a speed of 20.5 knots (38kph) on Lake Geneva. The cruising speed of the boat was said to be around 18 knots (33kph).

On 3 April 1879, Gitana confirmed her 20.5 knot world speed record in a race against the Winkelried, a boat belonging to the Compagnie Générale de Navigation.

1898 - 26 KNOTS (48 KM/H)

Not content with 20,5 knots, the lady speedace launched Gitana II. With this vessel the Baroness proved her mettle once again, recording a new speed record in her first year of sailing, in 1898. This record was also set on Lake Geneva, between Coppet and Saint-Pres, covering a distance of 27,643 metres, starting at the south-west end of the lake on a line defined by the Coppet clock tower and the top of the Dôle.

The finish to the north-east was marked by the end of the wharf at Saint-Prex, near Morges. She completed this speed trial fully laden, including 3.5 tons of fossil fuel coal. The time on her outward run was 34 minutes and 12 seconds; 34 minutes and 36 seconds on the return. Average speed was 26.34 knots or 48.215kph.

Lake Geneva was favoured by a number of motor boating enthusiasts, including Sir Malcolm Campbell, where he raced his Bluebird K3, powered by a Rolls Royce V12 Merlin engine.



CREW
Charles Caudrelier
Franck Cammas
LIST OF TROPHY HOLDERS:

2017 – Francis Joyon / IDEC SPORT (31.5m) – 40:23:30:30 (3 attempts) current record holder
2012 – Loïck Peyron / Banque Populaire V (40m) – 45:13:42:53
2010 – Franck Cammas / Groupama 3 (31.5m) – 48:07:44:52 (4 attempts)
2005 – Bruno Peyron / Orange II (36.8m) – 50:16:20:04 (6 attempts)
2004 – Olivier De Kersauson / Geronimo (33.8m) – 63:13:59:46
2002 – Bruno Peyron / Orange (32.8m) – 64:08:37:24
1997 – Olivier De Kersauson / Sport-Elec (27.3m) – 71:14:22:08 (5 attempts)
1994 – Peter Blake, Robin Knox-Johnston / Enza New Zealand (28m) – 74:22:17:22 (2 attempts)
1993 – Bruno Peyron / Commodore Explorer (28m) – 79:06:15:56
LIST OF ATTEMPTS:
2021 - Charles Caudrelier / Gitana Team 1st attempt - Maxi Edmond de Rothschild & Franck Cammas
2020 - Thomas Coville / Sodebo Ultim 3 1st attempt - foiling trimaran
2019, 2015 - Yann Guichard / 3 attempts
2015 - Dona Bertarelli & Yann Guichard / 1 attempt
2011 - Pascal Bidégorry / 1st attempt
2003 - Ellen MacArthur / 1 attempt
1998 - Tracy Edwards / 1 attempt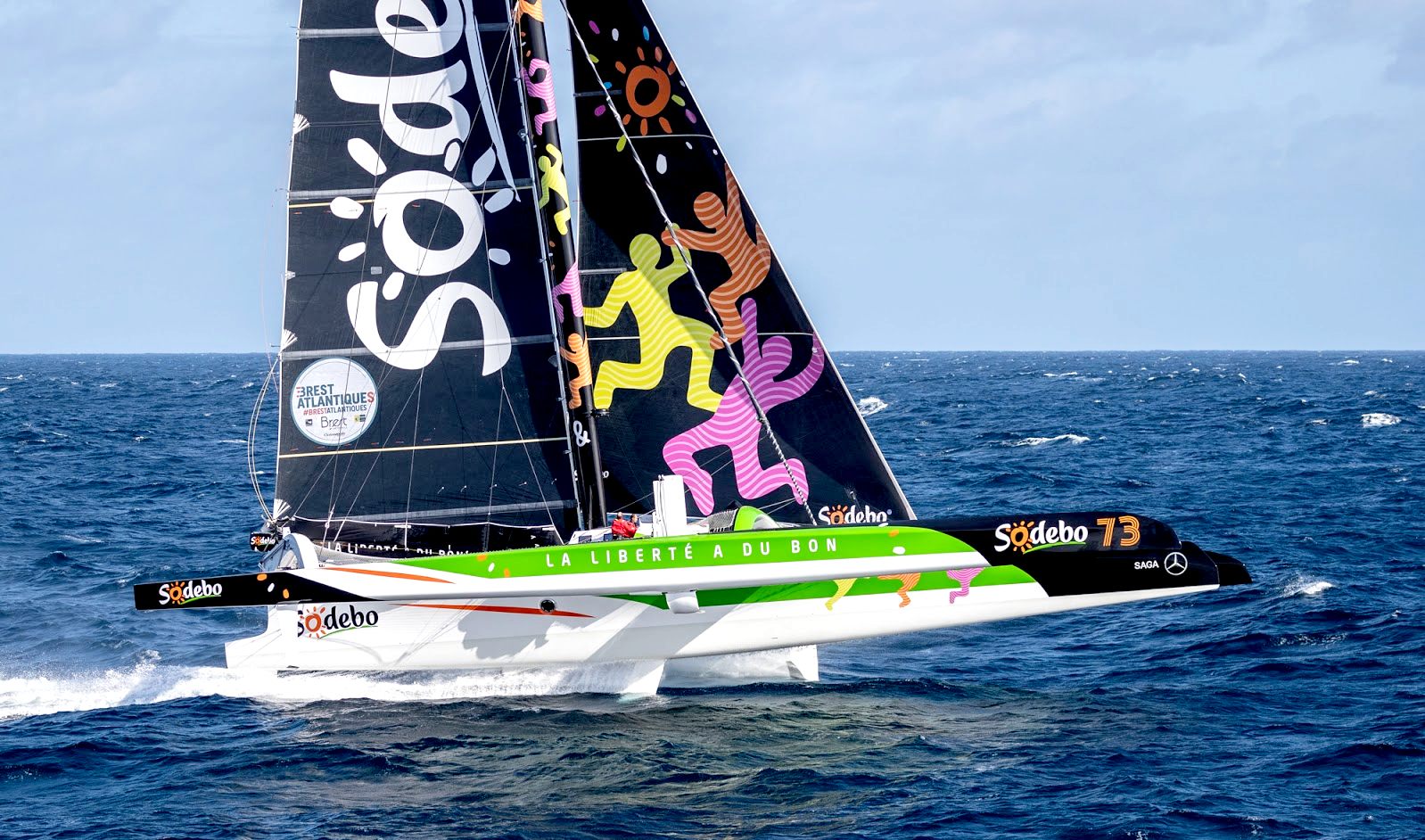 SODEBO: Another giant flying trimaran, falling foul of rudder problems, during their outing in December 2020, when they quite sensibly called time-out.
CONTACTS
ASSOCIATION TOUR DU MONDE EN 80 JOURS
Musée de la Marine
Palais de Chaillot
17 place du Trocadéro
75016 Paris
Email: contact@tropheejulesverne.org
LINKS & REFERENCE
http://gitana-team.com/en/saga/
https://www.sail-world.com/news/234784/Maxi-Edmond-de-Rothschild-homeward-bound
http://gitana-team.com/en/news/
https://www.tropheejulesverne.org/en/