As trophy designs go, the America's Cup follows tradition in using silver to create a tall cup with a base that has room for many names as the series progresses. It seems that a second base layer was added as room for engraving ran out. A third base may even be added in due course, despite the enormous cost of hosting the event, rising year on year - adding to the event's carbon footprint and climate change.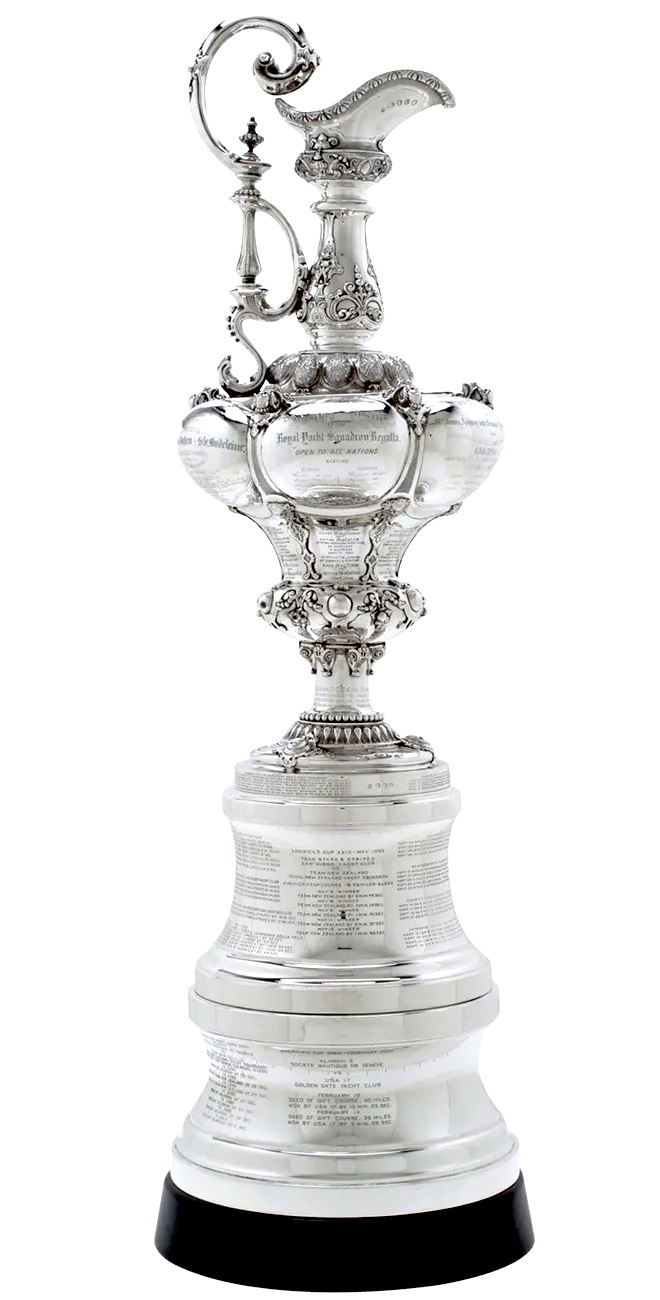 The cost of silver as the base material of this trophy is not the main consideration, as it does not weigh a great deal, compared to the Hales Trophy. Of course the item is beyond price, being symbolic of the massive effort of the competing teams over more than 150 years.
The America's Cup is not a particularly attractive trophy. Some have even called it ugly. It lacks a bottom, so you can't even drink from it — yet some of the richest men in history have spent hundreds of millions of dollars in an attempt to own it. Here is a brief history focusing on the cost of hosting and competing in the event.

1851

Spending heaps on the Cup is a tradition that goes right back to its beginning. John Cox Stevens, commodore of the New York Yacht Club, led a six-man syndicate that brought a 31 metre schooner called America across the Atlantic Ocean in 1851 to make money.

They began by placing adverts challenging all-comers (with no age, ability or experience restrictions) to race for a wager of £10,000 (the equivalent of about $1.5 million today), but got no takers. Shades of the £20,000 wager accepted by Phileas Fogg at the Reform Club in London.

America made its name later that summer when it joined 15 yachts for the Royal Yacht Squadron's race around the Isle of Wight. The prize was a trophy costing just £100, but such was America's reputation after its convincing win that the syndicate sold the boat for $25,000 — about $5,000 more than they'd paid for it - yielding a handsome profit.

1899

Since then, countless sums have been spent on attempts to win the America's Cup. The most persistent challenger was Thomas Lipton. Born in Glasgow, where his family owned a grocery store, he left for the US aged 14 with just $8 in his pocket and returned a millionaire. By the time he launched the first of his five challenges for the America's Cup in 1899, he controlled 10 per cent of the world's tea supply, yet he won only two of the 16 races he competed in for the trophy.

1962

In nine contests between 1937 and 1983, the challenger won only three races. Two were by Australian media mogul Frank Packer, who spent more than $700,000 to win one race in 1962.

Eight years later, he had to dig deeper to come through the competition's first qualification regatta, in which he faced Baron Marcel Bich, founder of Bic pens, who led four unsuccessful Cup campaigns. In the final, Packer won two races, but one was stripped after an acrimonious protest by the host club. His effort did at least show the world that Australians, who were dominant in tennis at the time, could be competitive in another sport.
1983
The breakthrough came in 1983 when Australia II became the first foreign winner. It was owned by Alan Bond, who made his money in property, brewing and broadcasting, and reportedly spent $5 million on his successful America's Cup campaign — after three failed attempts. He arrived in Rhode Island for the decisive contest with an innovative winged keel and a golden wrench with which he said he would remove the trophy from its plinth.

Perhaps this pursuit of sailing's Everest took Bond's attention away from his business empire. Within a decade, he was declared bankrupt, his company owing more than $6 billion. Five years after that he began a four-year spell in prison for fraud – yet most people will remember him for what he did on the water.
1992

The Aussie's supremacy was short lived, with the USA winning the trophy back in 1987. In 1992, US oilman Bill Koch spent $65 million on defending the America's Cup. Ten years later, the qualification series featured five billionaires, including Larry Ellison, co-founder of Oracle, and Patrizio Bertelli, CEO of Prada. In all, $500 million was spent by the challengers. "It's so cheap, I'm surprised more people don't do this," Ellison quipped at the time.

There is a greater reason than financial gain, though. The America's Cup is one of the last billionaires' playthings where those with money can join in. The other being conquest of space. Newspaper owners don't get their fingers inky; football club owners never strap on their boots. An America's Cup backer gets to sail with his staff, even if the speed of modern boats makes it unwise to do so in competition. "I want to be driving the winning boat," Ellison said in 2002.

2000 - 2003

Few enter the Cup to make money, but it can have commercial benefits. Auckland did very well out of hosting the America's Cup in 2000 and 2003. It created 1,000 jobs and brought $75 million into the local economy, which explains why the New Zealand government supports its country's bids.

Hosting the Cup does not always pay out in the long run, though. The Spanish port of Valencia, which staged the 2007 event, received $500 million of investment for regeneration and supposedly brought $3 billion in benefit to the city. It even helped to attract a Formula One race to Valencia.

Yet it was all built on sand. Cheap credit and corrupt politicians turned a boom town into a ghost town. Today, many of the America's Cup buildings now lay empty.
2010
The 32nd America's Cup in Valencia, Spain was a success on many levels. By bidding out the city, the organising authority was able to raise revenue on a scale previously unimagined. A four-year programme of racing took America's Cup racing to other European venues, drumming up interest in the event. And teams from new territories, like South Africa and China, added to the international flavour of the racing.

2013

When you are worth more than $40 billion, as Ellison is, losing battles matters more than losing money. Some say that he spent more than $300 million on Oracle Team USA's successful defence of the trophy in September 2013 in what turned out to be one of the greatest sporting stories, with the Oracle racing team beating Emirates Team New Zealand 9-8 after trailing 8-1.

Building two massive catamarans — a racer and a spare — and running a 130-strong team of sailors, designers and so on, does not come cheap, especially with the leading staff on salaries of at least $20,000 a month, often a lot more.
2017

Meanwhile, Land Rover BAR's bid for the 2017 America's Cup (Bermuda) was expected to cost at least $100 million.

The 2017 America's Cup was the 35th staging of the America's Cup yacht race. The challenger, Emirates Team New Zealand, won by a score of 7 to 1 over the defender, Oracle Team USA. It was held on the Great Sound in Bermuda from June 17 to June 26. The races were conducted using hydrofoiling AC50 America's Cup Class yachts, which are slightly larger than the AC45F yachts used in the 2015–16 America's Cup World Series.

The financial package included in the bid by Bermuda was worth approximately US$77 million, including a $15 million sponsorship fee, $25 million for infrastructure improvements, $12 million operating costs and a $25 million guarantee against commercial sponsorships. Dr. Grant Gibbons, Bermuda's Minister for Economic Development, stated that the America's Cup had a possibility of generating revenue of up to US$250 million in Bermuda.

The post-event report for the 2017 America's Cup in Bermuda, was prepared by reputable international consultancy Price, Waterhouse, Cooper (PWC). That report, which was tabled in the Bermudian Parliament, claimed a return of over US$5 for every $1 invested. Estimating a profit of $12.5 million. A close call as risks go.

The teams that did compete in Auckland were by previous Cup standards all "Superteams" independently funded with the overseas teams on budgets of over USD$100million.
2021

Emirates Team New Zealand's AC75 'Te Rehutai' crossed the finish line to claim the 36th America's Cup.
Mainstream media, both in New Zealand and internationally, have picked up on conclusions from the NZ Government commissioned report, which states that the 36th America's Cup returned variously only $0.72 or $0.85 for every $1 invested. I.e. a loss maker.

Notes attached to the report commissioned by the Ministry of Business, Innovation and Employment clearly states that a new methodology was used for AC36 "because any type of cost or benefit can be included if it can be given a monetary value. This allowed social, cultural and environmental impacts to be featured alongside the economic impacts."

The report includes non-financial costs running well into seven figures, including "carbon costs" of $1.5million. "Event attendee costs" of $104.7million which included the "Value of time and money devoted to AC36 by attendees". The report explains that away as "Anyone in the following groups who attended AC36 in-person: ACE, ETNZ, COR, Challengers, volunteers, broadcast and media staff, superyacht owners and crew, public attendees." In reality only a few of these people are paid by the Event, but they are all included as a cost of over $100million to the Event.

MBIE's mix of theoretical and actual cash costs and benefits, the 36th America's Cup had a deficit of over $156million.




2022 - 2024: 37th AMERICA'S CUP

37th - October 2021: Over the past few weeks, the eye-watering cost of staging the 37th America's Cup has been reported as being between €200 - €600million - a figure which seems to grow like Pinocchio's nose.
The Spanish port city of Malaga had confirmed it is keen on hosting the next America's Cup. Malaga mayor Francisco de la Torre broke his silence on the discreet bid, confirming that since October the administration had been assessing the viability of staging yachting's pinnacle event.

That included "studying and analysing impact reports" from the different America's Cup venues over the last 15 years.

America's Cup organisers were "very interested" in Malaga due to "the combination of strategic location, climate, wind regime, culture and history, infrastructures, connectivity, quality and hotel capacity".

Defenders, Team New Zealand have set a March 31 deadline to confirm the venue for the 2024 event. Cork in Ireland and Jeddah in Saudi Arabia are other international options while Auckland remains on the table if a late home funding miracle eventuates. The selection process for a venue for the 37th America's Cup in 2024 appears to be in its final stages.

In a letter leaked to the Spanish media, Emirates Team New Zealand CEO, Grant Dalton has advised one of the venue candidates, Valencia that they have been excused from further consideration, due to insufficient financial support, and that they must work through the final selection with venues that have met the required financial and other criteria.

Valencia was the venue for the highly successful 2007 America's Cup, and also the 2010 Deed of Gift Match, where the champion Swiss team, Alinghi were defeated by Larry Ellison's BMW Oracle Racing.

With purpose built infrastructure for the 2007 America's Cup, Valencia was an obvious candidate to host the 37th America's Cup, after a three month exclusive negotiation between the NZ Government and ETNZ broke down with the two parties well apart.

In a letter published last week in Spanish media, Dalton thanked Alejandro Fliquete, President of the Real Club Náutico de Valencia, but said the venue selection process had to move on and work through the final candidates who had met the required criteria. The advice is not good news for the Kiwi Home Defence Group which has mounted an 11th hour bid to have the Cup hosted in Auckland.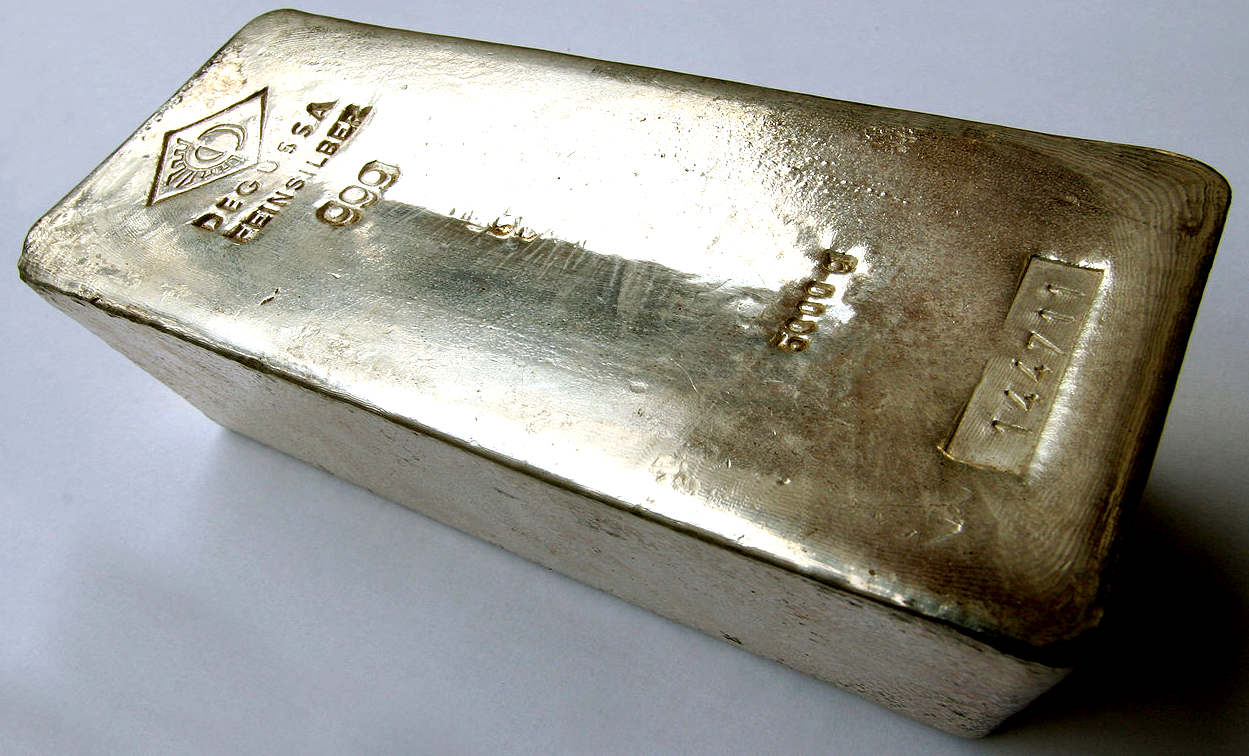 Silver is a precious metal used in bullion and coins. As one of the seven metals of antiquity, silver enjoys an enduring role in most human cultures. Most traditional cups and trophies carrying some import are made of silver, or silver plated nickel alloys.
REFERENCES
https://www.stuff.co.nz/sport/americas-cup/127490323/malaga-confirms-americas-cup-hosting-bid
https://www.boatinternational.com/yachts/americas-cup/americas-cup-the-rising-cost-of-sailings-ultimate-prize--31985
https://www.americascup.com/
https://www.sail-world.com/news/242281/Americas-Cup-hosting-costs-overcooked