OLD & NEW - A book cover close to the designs at around the date of first publication, compared to a modern cover as a classic. Around the World in Eighty Days (1873) is an acclaimed adventure novel which relates the adventures of Phileas Fogg and his French valet Passepartout as they attempt to circumnavigate the world in 80 days. From London, they go to the Middle East, and through the Suez canal on the way to Bombay. In India they experience a series of adventures and gain a third travel companion, after which a detective pursues them to China. Separated in Hong Kong, Yokohama sees them united again. After crossing the Pacific, they attempt to cross North America by train, with disastrous results. They surmount incredible obstacles in New York City and on the transatlantic trip, and then the challenge gets even more formidable. Around the World in Eighty Days, with its steam ships, boats, trains, elephant, and wind-powered sledge, remains a classic more than 150 years later.

It was Jules Verne's fictional character, 'Philleas Fogg', who suggested that it might be possible to travel Around The World In 80 Days. But what about doing it in a Zero Emission yacht driven by electric hydro-jets? With the advent of solar power and liquid hydrogen, it is a distinct possibility - on a scale of the wager that the legendary Philleas Fogg entered into at the Reform Club in 1872.
In 1874, Jules Verne set out a prescient vision that has inspired governments and entrepreneurs in the 147 years since. In his book The Mysterious Island, Verne wrote of a world where "water will one day be employed as fuel, that hydrogen and oxygen which constitute it, used singly or together, will furnish an inexhaustible source of heat and light, of an intensity of which coal is not capable." It is possible that in 2024, if we all pull together, we might stage the Jules Verne 150th anniversary: World Hydrogen Challenge.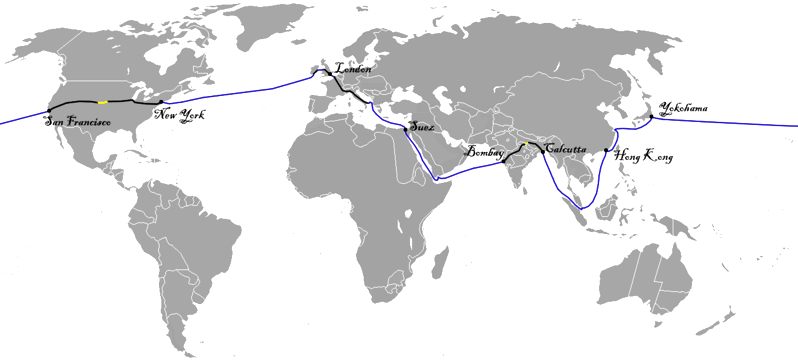 Map of the route taken by Phileas Fogg, starting in London, then proceeding east to Suez, Bombay, Calcutta, Hong Kong , Yokohama, San Francisco, New York, and across the Atlantic ocean to Ireland, then Liverpool England, and back to London. The route planner below is for a circumnavigation on water in under 80 days, using hydrogen, as per the author's prediction in The Mysterious Island. It would be a major achievement if this was arranged to honor the 150th anniversary of his publication.
PLOT - AROUND THE WORLD IN EIGHTY DAYS
The story starts in London on October 2, 1872. Phileas Fogg is a wealthy, solitary, unmarried gentleman with regular habits. The source of his wealth is not known and he lives modestly. He fires his former valet, James Forster, for bringing him shaving water two degrees too cold. He hires as a replacement Jean Passepartout, a Frenchman of around 30 years of age.

Later that day in the Reform Club, he gets involved in an argument over an article in The Daily Telegraph, stating that with the opening of a new railway section in India, it is now possible to travel around the world in 80 days.

Fogg accepts a wager for £20,000 from his fellow club members, which he will receive if he makes it around the world in 80 days. Accompanied by his manservant Passepartout, he leaves London by train at 8.45 p.m. on October 2, 1872, and thus is due back at the Reform Club at the same time 80 days later, on December 21.

Fogg and Passepartout reach Suez in time. While disembarking in Egypt, he is watched by a Scotland Yard detective named Fix, who has been dispatched from London in search of a bank robber. Because Fogg matches the description of the bank robber, Fix mistakes Fogg to be the criminal. Since he cannot secure a warrant in time, Fix goes on board of the steamer conveying the travelers to Bombay. During the voyage, Fix gets acquainted with Passepartout, without revealing his purpose.

Still on time, Fogg and Passepartout switch to the railway in Bombay, setting off for Calcutta, Fix now following them undercover. As it turns out, the construction of the railway is not totally finished, so they are forced to get over the remaining gap between two stations by riding an elephant, which Phileas Fogg purchases at the prodigious price of 2,000 pounds.

During the ride, they come across a suttee procession, in which a young Parsi woman, Aouda, is led to a sanctuary to be sacrificed the next day. Since the young woman is drugged with the smoke of opium and hemp and obviously not going voluntarily, the travelers decide to rescue her. They follow the procession to the site, where Passepartout secretly takes the place of Aouda's deceased husband on the funeral pyre, on which she is to be burned the next morning. During the ceremony, he then rises from the pyre, scaring off the priests, and carries the young woman away.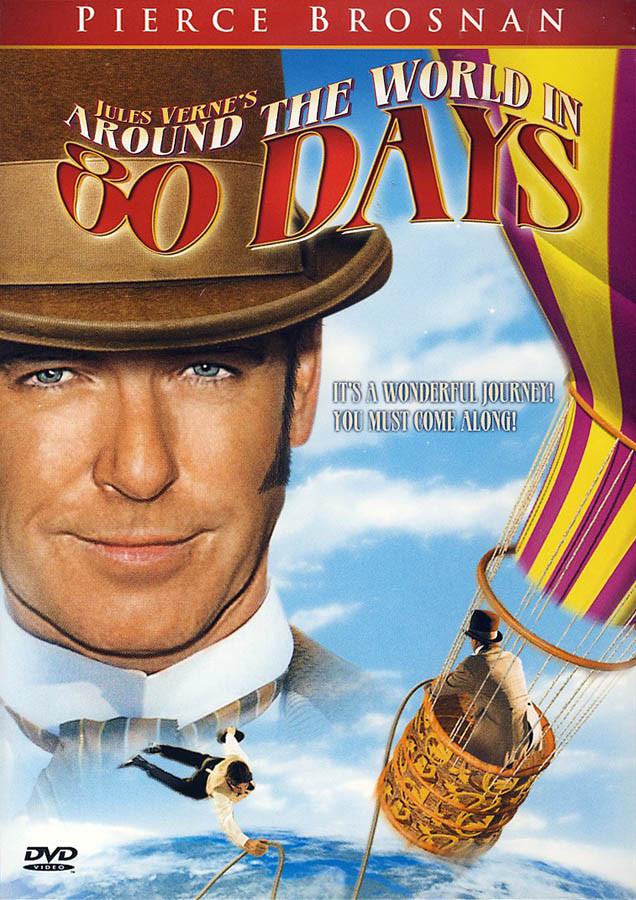 The travelers then hasten on to catch the train at the next railway station, taking Aouda with them. At Calcutta, they finally board a steamer going to Hong Kong. Fix, who had secretly been following them, has Fogg and Passepartout arrested in Calcutta. But they jump bail and Fix is forced to follow them to Hong Kong. On board, he shows himself to Passepartout, who is delighted to meet again his traveling companion from the earlier voyage.

In Hong Kong, it turns out that Aouda's distant relative in whose care they had been planning to leave her there, has moved, likely to Holland, so they decide to take her with them to Europe. Meanwhile, still without a warrant, Fix sees Hong Kong as his last chance to arrest Fogg on British soil. He therefore confides in Passepartout, who does not believe a word and remains convinced that his master is not a bank robber. To prevent Passepartout from informing his master about the premature departure of their next vessel, Fix gets Passepartout drunk and drugs him in an opium den. In his dizziness, Passepartout yet manages to catch the steamer to Yokohama, but neglects to inform Fogg.

Fogg, on the next day, discovers that he has missed his connection. He goes in search of a vessel which will take him to Yokohama. He finds a pilot boat which takes him and his companions (Aouda and Fix) to Shanghai, where they catch a steamer to Yokohama. In Yokohama, they go on a search for Passepartout, believing that he may have arrived there with the original connection. They find him in a circus, trying to earn his homeward journey.

Reunited, the four board on a steamer taking them across the Pacific to San Francisco. Fix promises Passepartout that now, having left British soil, he will no longer try to delay Fogg's journey, but rather support him in getting back to Britain as fast as possible (to have him arrested there).

In San Francisco, they get on the train to New York. During that trip, the train is attacked by Native Americans, who take Passepartout and two other passengers hostage. Fogg is now faced with the dilemma of continuing his tour, or going to rescue Passepartout. He chooses the latter, starting on a rescue mission with some soldiers of a nearby fort, who succeed in freeing the hostages. To make up for the lost time, Fogg and his companions hire a sledge, which brings them to Omaha, Nebraska, where they arrive just in time to get on a train to Chicago, Illinois, and then another to New York. However, reaching New York, they learn that the steamer for Liverpool they had been trying to catch has left a short time before.

On the next day, Fogg starts looking for an alternative for the crossing of the Atlantic. He finds a small steam boat, destined for Bordeaux. However, the captain of the boat refuses to take the company to Liverpool, whereupon Fogg consents to be taken to Bordeaux. On the voyage, he bribes the crew to mutiny and take course for Liverpool. Going on full steam all the time, the boat runs out of fuel after a few days. Fogg buys the boat at a very high price from the captain, soothing him thereby, and has the crew burn all the wooden parts to keep up the steam.

The companions arrive at Queenstown, Ireland, in time to reach London via Dublin and Liverpool before the deadline. However, once on British soil again, Fix produces a warrant and arrests Fogg. A short time later, the misunderstanding is cleared up because the actual bank robber had been caught several days earlier in Liverpool. In response to this, Fogg, in a rare moment of impulse, punches Fix, who immediately falls to the ground. However, Fogg has missed the train and returns to London five minutes late, assured that he has lost the wager.

In his London house the next day, he apologizes to Aouda for bringing her with him, since he now has to live in poverty and cannot financially support her. Aouda suddenly confesses that she loves him and asks him to marry her, which he gladly accepts. He calls for Passepartout to notify the reverend. At the reverend's, Passepartout learns that he is mistaken in the date, which he takes to be Sunday but which actually is Saturday due to the fact that the party traveled east, thereby gaining a full day on their journey around the globe, by crossing the International Date Line.

Passepartout hurries back to Fogg, who immediately sets off for the Reform Club, where he arrives just in time to win the wager. Thus ends the journey around the world.

Many of his stories today seem a little tame, as technology has caught up with the imagination of the extraordinary French author, and Hollywood has discovered Computer Generated Images (CGI) allowing super heroes to grace our screens as never before. Computers are one thing that Verne did not imagine or seek to portray.
Beginning in late 1872, the serialized version of Verne's famed Around the World in Eighty Days (Le Tour du monde en quatre-vingts jours) first appeared in print. The story of Phileas Fogg and Jean Passepartout takes readers on an adventurous global tour at a time when travel was becoming easier and alluring. In the century plus since its original debut, the work has been adapted for the theater, radio, television and film, including the classic 1956 version starring David Niven. The TV series starring Pierce Brosnan runs for around 6 hours on 2 DVDs.
Jules Verne was the author of many adventure stories:
1 Twenty Thousand Leagues Under the Sea - Full text Part 1, Part 2
2 Around the World in Eighty Days - Full text Index
3 Journey to the Center of the Earth - Full text Index
4 The Mysterious Island (Extraordinary Voyages #12) Full text Part 1, Part 2, Part 3
5 From the Earth to the Moon
6 Michael Strogoff (Extraordinary Voyages, #14)
7 In Search of the Castaways; or the Children of Captain Grant (Extraordinary Voyages, #5)
8 Five Weeks in a Balloon
9 Round the Moon (Extraordinary Voyages, #7)
10 Adrift in the Pacific: Two Years Holiday (Extraordinary Voyages, #32)
11 The Master of the World (Extraordinary Voyages, #53)
12 The Adventures of Captain Hatteras
13 Les Tribulations d'un Chinois en Chine; The Tribulations of a Chinese in China (Extraordinary Voyages, #19)
14 The Lighthouse at the End of the World
15 Mathias Sandorf (Extraordinary Voyages, #27)
16 Off On A Comet (Extraordinary Voyages, #15)
17 Los quinientos millones de la Begún (The five hundred million of the Begún)
18 Facing the Flag (Extraordinary Voyages, #42)
19 Un capitán de quince años (A fifteen year old captain)
20 El Testamento de un excentrico (The Testament of an eccentric)
| | | | | |
| --- | --- | --- | --- | --- |
| LEG | NAUTICAL MILES | BUNKERING | WAYPOINT | SUNSHINE DAYS |
| - | - | - | - | - |
| | - | - | - | - |
| - | - | FILL UP | | 00.00 |
| 1 | 729 | - | | 1.90 |
| 2 | 3,154 | - | | 8.21 |
| 3 | 1,182 | 1 | | 3.00 |
| 4 | 970 | - | | 2.45 |
| 5 | 3,640 | - | | 9.48 |
| 6 | 1,423 | - | | 3.71 |
| 7 | 410 | - | | 1.07 |
| 8 | 1,886 | 1 | | 4.91 |
| 9 | 340 | - | | 0.88 |
| 10 | 724 | - | | 1.89 |
| 11 | 1,572 | - | | 4.09 |
| 12 | 1,881 | - | | 4.90 |
| 13 | 2,109 | 1 | | 5.49 |
| 14 | 698 | - | | 1.82 |
| 15 | 670 | - | | 1.75 |
| 16 | 1,111 | - | | 2.89 |
| 17 | 170 | - | | 0.44 |
| 18 | 940 | | | 2.45 |
| - | - | - | - | - |
| - | 23,609 | - | RUNTIME DAYS @ 12.5kts | 78.70 |
| - | - | (ADD 3 DAYS) | RUNTIME DAYS @ 13kts | 75.67 |
| - | - | - | - | - |
| - | - | (ADD 4 DAYS) | 14 KNOTS AVE INC | 70.26 |
| - | - | - | AT 15 KNOTS AVE | 65.58 |
| - | - | - | AT 16 KNOTS AVE | 61.48 |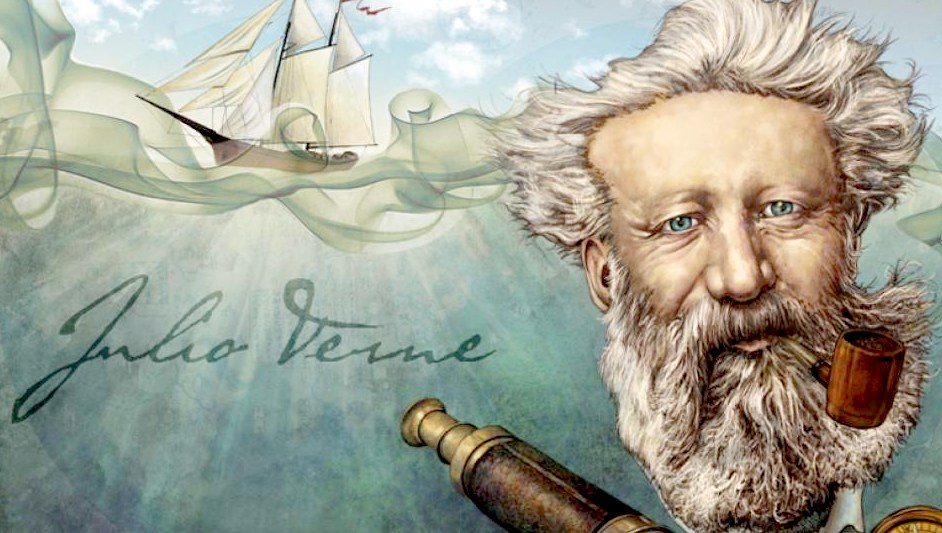 Jules Verne is also known as the Father of Science Fiction
BOOK CHAPTERS

1. - I. IN WHICH PHILEAS FOGG AND PASSEPARTOUT ACCEPT EACH OTHER, THE ONE AS MASTER AND AS MAN
2. - II. IN WHICH PASSEPARTOUT IS CONVINCED THAT HE HAS AT LAST FOUND HIS IDEAL
3. - III. IN WHICH A CONVERSATION TAKES PLACE WHICH SEEMS LIKELY TO COST PHILEAS FOGG DEAR
4. - IV. IN WHICH PHILEAS FOGG ASTOUNDS PASSEPARTOUT, HIS SERVANT
5. - V. IN WHICH A NEW SPECIES OF FUNDS, UNKNOWN TO THE MONEYED MEN, APPEARS ON 'CHANGE
6. - VI. IN WHICH FIX, THE DETECTIVE, BETRAYS A VERY NATURAL IMPATIENCE
7. - VII. WHICH ONCE MORE DEMONSTRATES THE USELESSNESS OF PASSPORTS AS AIDS TO DETECTIVES
8. - VIII. IN WHICH PASSEPARTOUT TALKS RATHER MORE, PERHAPS, THAN IS PRUDENT
9. - IX. IN WHICH THE RED SEA AND THE INDIAN OCEAN PROVE PROPITIOUS TO THE DESIGNS OF PHILEAS FOGG
10. - X. IN WHICH PASSEPARTOUT IS ONLY TOO GLAD TO GET OFF WITH THE LOSS OF HIS SHOES
11. - XI. IN WHICH PHILEAS FOGG SECURES A CURIOUS MEANS OF CONVEYANCE AT A FABULOUS PRICE
12. - XII. IN WHICH PHILEAS FOGG AND HIS COMPANIONS VENTURE ACROSS THE INDIAN FORESTS, AND WHAT ENSUED
13. - XIII. IN WHICH PASSEPARTOUT RECEIVES A NEW PROOF THAT FORTUNE FAVORS THE BRAVE
14. - XIV. FOGG DESCENDS THE LENGTH OF THE BEAUTIFUL VALLEY OF THE GANGES WITHOUT EVER THINKING OF SEEING IT
15. - XV. IN WHICH THE BAG OF BANKNOTES DISGORGES SOME THOUSANDS OF POUNDS MORE
16. - XVI. IN WHICH FIX DOES NOT SEEM TO UNDERSTAND IN THE LEAST WHAT IS SAID TO HIM
17. - XVII. SHOWING WHAT HAPPENED ON THE VOYAGE FROM SINGAPORE TO HONG KONG
18. - XVIII. IN WHICH PHILEAS FOGG, PASSEPARTOUT, AND FIX GO EACH ABOUT HIS BUSINESS
19. - XIX. IN WHICH PASSEPARTOUT TAKES A TOO GREAT INTEREST IN HIS MASTER, AND WHAT COMES OF IT
20. - XX. IN WHICH FIX COMES FACE TO FACE WITH PHILEAS FOGG
21. - XXI. IN WHICH THE MASTER OF THE "TANKADERE" RUNS GREAT RISK OF LOSING A REWARD OF TWO HUNDRED POUNDS
22. - XXII. PASSEPARTOUT DISCOVERS IT IS CONVENIENT TO HAVE MONEY IN ONE'S POCKET AT THE ANTIPODES
23. - XXIII. IN WHICH PASSEPARTOUT'S NOSE BECOMES OUTRAGEOUSLY LONG
24. - XXIV. DURING WHICH MR. FOGG AND PARTY CROSS THE PACIFIC OCEAN
25. - XXV. IN WHICH A SLIGHT GLIMPSE IS HAD OF SAN FRANCISCO
26. - XXVI. IN WHICH PHILEAS FOGG AND PARTY TRAVEL BY THE PACIFIC RAILROAD
27. - XXVII. IN WHICH PASSEPARTOUT UNDERGOES, AT A SPEED OF 20 MPH, A COURSE OF MORMON HISTORY
28. - XXVIII. IN WHICH PASSEPARTOUT DOES NOT SUCCEED IN MAKING ANYBODY LISTEN TO REASON
29. - XXIX. IN WHICH CERTAIN INCIDENTS ARE NARRATED WHICH ARE ONLY TO BE MET WITH ON AMERICAN RAILROADS
30. - XXX. IN WHICH PHILEAS FOGG SIMPLY DOES HIS DUTY
31. - XXXI. IN WHICH FIX, THE DETECTIVE, CONSIDERABLY FURTHERS THE INTERESTS OF PHILEAS FOGG
32. - XXXII. IN WHICH PHILEAS FOGG ENGAGES IN A DIRECT STRUGGLE WITH BAD FORTUNE
33. - XXXIII. IN WHICH PHILEAS FOGG SHOWS HIMSELF EQUAL TO THE OCCASION
34. - XXXIV. IN WHICH PHILEAS FOGG AT LAST REACHES LONDON
35. - XXXV. IN WHICH PHILEAS FOGG DOES NOT HAVE TO REPEAT HIS ORDERS TO PASSEPARTOUT TWICE
36. - XXXVI. IN WHICH PHILEAS FOGG'S NAME IS ONCE MORE AT A PREMIUM ON 'CHANGE
37. - XXXVII. PHILEAS FOGG FINDS HE GAINED NOTHING BY HIS TOUR AROUND THE WORLD, UNLESS IT WERE HAPPINESS