There is no limit to the design of vessels that are entered into the JVH2 World Hydrogen Trophy series of ocean racing events, inspired by the legendary Jules Verne. You can enter a boat, yacht or ship. These can have a single hull, or multiples of hulls, such as a twin hull catamaran arrangement, or a triple hull trimaran configuration.
It is Open Class.
You can have a displacement hull, deep V, wave piercing, or foil design. The vessel can be any length or displacement. It is an unlimited category. More than likely, the cost of producing your entry will play a major part in deciding how to proceed, as will physics and logistics.
"SDG 7 - Cheap, clean, energy for all." UN's Sustainability Development Goals
"SDG 13 - Climate Action." UN's Sustainability Development Goals
"SDG 14 - Oceans, life below water." UN's Sustainability Development Goals"
The one limitation that competitors must work to, is using hydrogen to power their entry. This can be a compressed gas, liquid hydrogen, ammonia, methanol, or peroxide. So long as the fuel used is derived from hydrogen. Preferably, green hydrogen, produced from a renewable energy source.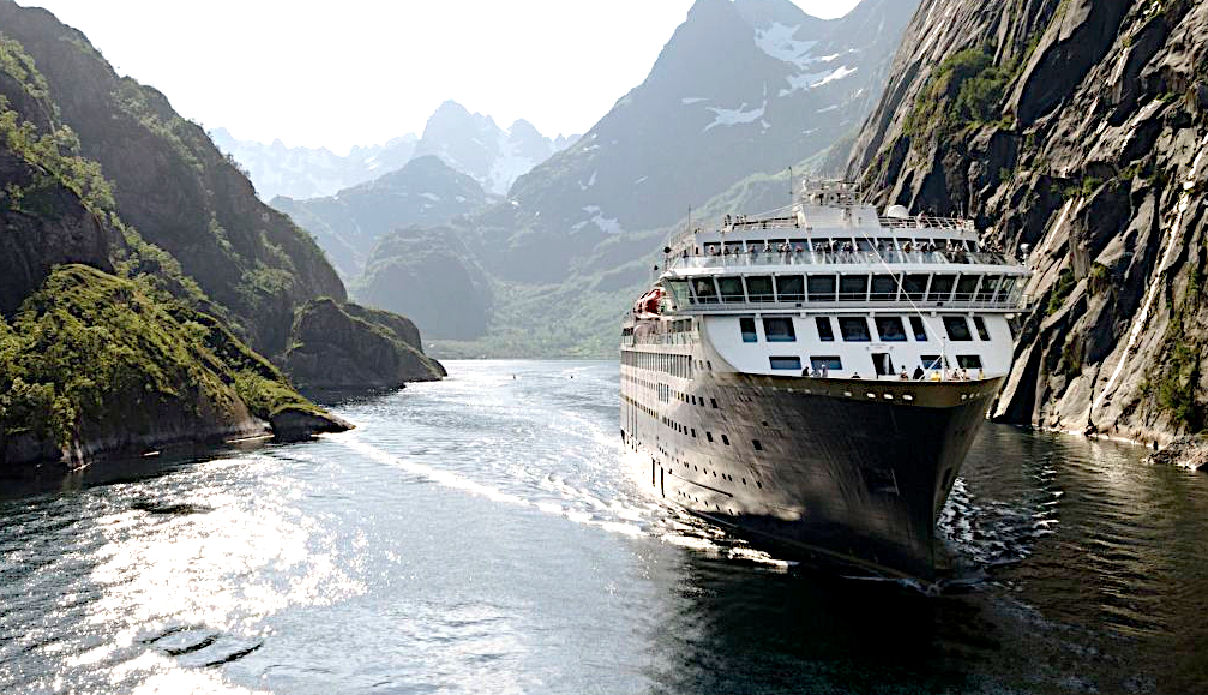 HAVILA VOYAGES - Offer battery powered cruises in Norway, with generators powered by natural gas. That is not, a million miles away from using hydrogen as the fuel. So, well done to Havila.
Havila Voyages' operate four coastal cruise ships. They are loaded with the largest battery packs ever installed on a passenger ship, meaning that we can sail for four hours straight with zero emissions. That way you can visit vulnerable fjords, such as the world heritage Geirangerfjord, without worrying about environmental issues, and you can do so in utter silence. The battery packs, which are supplied by Corvus, weigh 86 tons, and they have a capacity of 6.1 megawatt hours.

The batteries are charged with clean hydropower ashore, and when we don't use the batteries, we run on LNG (liquid natural gas) which – along with general efficient hybrid operation – cuts CO2 by around 40 per cent. NOx emissions are reduced by 90 per cent. With the gradual blending of biogas, emissions of CO2 can be reduced to 50 % in 2023 and 80 % in 2024.

HYDROGEN READY - Havila Voyages´ ships have been designed to ensure that when hydrogen becomes a viable power approved for commercial sailing, the vessels can be converted into using the latest technology. Havila Voyages´ coastal cruise vessels are part of a pilot scheme by Hav Design called "FreeCo2ast". We wonder if they might one day be a 'JVH2' World Hydrogen Trophy contender, in a cruise category.
P.O. Box 215 - 6099 Fosnavåg - Norway Norway/Int: +47 7000 7070 UK: +44 3455 280 026
Denmark: +45 7080 1154 Sweden: +46 (0)840 000 718 Germany (Toll Free): 0800-72 43 122
The vessel may have a battery in the circuit for buffering, or charged via a fuel cell from any of the above sources.
You can use the fuel to power an internal combustion engine, or use fuel cells and electric drives.
A hydrogen IC engine can power a generator, thence hybrid drive to electric pods. By way of example.
Part of the challenge is to determine if IC engines can be adapted from fossil fuel usage, to compete effectively with electric motors. For sure IC engines are cheaper and the technology is available off the shelf. Many are already fitted in vessels that could race tomorrow (with some engine modifications), given the financial backing to support an ocean racing team.
This raises the issue of bunkering. Where at the moment, many ports and harbours do yet not supply hydrogen fuels. So plan your course carefully. It is a logistical as well as a nautical challenge.
The Cleaner Ocean Foundation are SGD Champions. You can be a UN or technology Advocate. Helping to forge a better world on sustainable principles.
LINKS
https://www.havilavoyages.com/the-ships/eco-friendly-ships